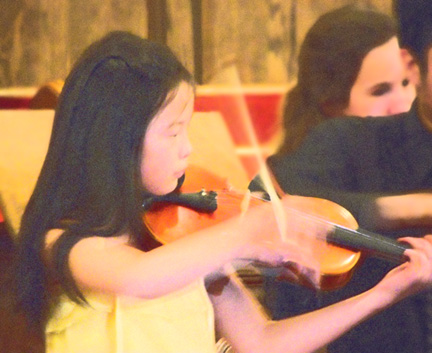 More About Shinichi Suzuki

Instructors:
Bobby Steadman, Suzuki Guitar
Rhonda Lorence, Suzuki Violin and Viola
The James C. Harper School of Performing Arts offers an expanded Suzuki program as a part of the full repertoire of classes. Lessons in violin, viola, guitar, cello, and piano are available.
Suzuki Lesson Options:

 • 30 minutes for 35 weeks
 • 45 minutes for 35 weeks
 • 60 minutes for 35 weeks 
Shinichi Suzuki, master violin teacher and founder of the Japanese Talent Education Movement, revolutionized violin teaching. Outstanding results have been achieved in viola, cello, flute, string bass, harp, recorder, guitar, and piano instruction. The Suzuki Method works on the principle that every child can develop his or her abilities during the early and sensitive years far beyond what most people imagine. A child can learn music through the same process he or she learns their mother tongue. Thus, the parent's role is vital in the development of early learning ability. The parent attends lessons with the child and helps with practice at home. The parent's knowledge of the instrument and music is developed along with the child's.
The basic principles of the Suzuki Method consist of: Listening, Motivation, Proper Technique, Repetition and Reinforcement.
The primary goal is to train the child not only in his or her musical abilities but also in his or her total human development.Lessons are designed to enhance the student's enjoyment of performing and learning. Also included in the Suzuki Program are group and solo recitals as well as community performances. Suzuki students will have a variety of group performance opportunities during the year. Students are encouraged to attend institutes at the local, regional and national levels. Membership in the Suzuki Association of the Americas is highly recommended. Each child receives a weekly private lesson and a bi-weekly group lesson. Group lessons are 45 minutes in length and may include chamber music, technical reinforcement, music theory, leadership skills and development of artistry. All students 7 and under in beginning guitar, cello, piano, violin and viola are expected to participate in the Suzuki program. Children are eligible for this program at the age of three and must have attended a minimum of one Music Together session before enrolling.
Knowledge is not skill. Knowledge plus ten-thousand times is skill.
Shinichi Suzuki